Kennel cough, the common name that is given to infectious canine tracheobronchitis, is a very highly contagious respiratory disease among dogs. As the name of the disease suggests, it is typified by inflammation of the trachea and bronchi. It is also medically referred to as tracheobronchitis and Bordetella.
Young puppies can suffer the most severe complications that can result from this disease, since they have an underdeveloped immune system that is still strengthening. Also at increased risk are older dogs, which have decreased immune capabilities, and pregnant bitches, which also have lowered immunity to infections.
Symptoms
Dry hacking cough is the most common symptom
Cough may sound like honking
Retching
Watery nasal discharge
In mild cases, dogs would likely be active and eating normally
In severe cases, symptoms progress and can include pneumonia, inappetence, fever, lethargy and even death
Unvaccinated puppies and young dogs, or immunocompromised dogs might experience the most severe symptoms of the disease
Diagnosis
The diagnosis for this disease is largely based upon the type of symptoms that are being presented and your dog's history with regards to exposure to other dogs. You will need to give a thorough history of your dog's health and onset of symptoms.
Treatment
Depending on the severity of the infection and the severity of the symptoms, there are two main types of treatments that can be given for canine tracheobronchitis disease. If your dog show signs of the symptoms above please Contact Us to make an enquiry or book an appointment today.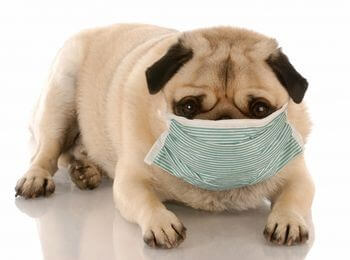 Call us or use our online booking system to ensure your pet enjoys the most optimal health possible. We'd love to see you!